Department of execution of the punishment Ministry of Internal Affairs of Republic of Belarus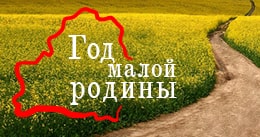 BELTA: 2018-2020 will be held in Belarus under the sign of the Year of the small motherland.
20 June 20, Minsk / Vladimir Matveev - BELTA /. In Belarus, 2018-2020 will be held under the sign of the Year of the Small Motherland. The corresponding decree No. 247 was signed by President of Belarus Alexander Lukashenko, BelTA learned from the press service of the Belarusian leader.

The document was adopted in order to stimulate the socio-economic development of regions, the formation of an active citizenship among the population, and the preservation of historical, cultural and spiritual heritage.
The Council of Ministers is tasked with jointly with the regional executive committees and the Minsk City Executive Committee to develop and approve a republican program of activities on this subject until 2020, as well as to ensure coordination of the activities of state bodies and other organizations in implementing the named program.
As BelTA was informed, the possibility of extending the time frame for the Year of the Small Motherland, Alexander Lukashenko, said this past April at the republican cleanup. "It was my idea (to declare the Year of the Small Motherland. - Approx. BELTA). There were a lot of assumptions. I thought that this topic should be raised. It's not even a year of small motherland, but a three-year period, because in a year we can hardly then we will build it, we will create it. You cannot turn people right away.They must first get used to, realize, make plans for themselves, and somewhere, someone needs to earn money to invest in their small homeland, the head of state said. - And then I proposed, let us declare this the Year of the Small Motherland and think about the extension. So this is just the start. "
Joy for all!
With the upcoming New Year holidays, the head of the Department for the Execution of Punishments of the Ministry of Internal Affairs of the Republic of Belarus, Major General of the Police Oleg Matkin, together with the leadership of the Ministry of Internal Affairs, visited the "Radoshkovichi boarding school for orphans and children left without parental care".
Militiamen congratulated the pupils of the boarding school and presented them with sweet gifts, and also the Republican Unitary Enterprise "Unit" provided free assistance in the form of upholstered furniture.